peaksaver PLUS

Join peaksaver PLUS and get a FREE programmable thermostat + a FREE energy display - a value of over $400!
What you get for participating:
A FREE, professionally installed Honeywell programmable thermostat.
Online access to your thermostat controls.
A FREE Energy Display that shows you how much electricity you are using in real-time.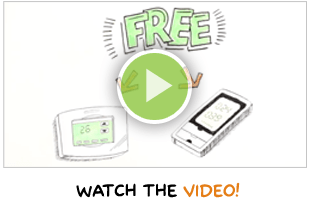 How peaksaver PLUS works:
A few times a summer, during times of peak electricity demand, your thermostat may be signaled to pause and release your central air conditioner in brief intervals. Your furnace fan will continue to run so you likely won't notice a difference in temperature.
Activations only occur on weekdays and not on weekends or holidays, plus you can opt out of an activation in advance.
By participating in peaksaver PLUS you will be joining thousands of other households in Ontario to help manage electricity use.
How to qualify for the free programmable thermostat + energy display:
Must have a central air conditioning unit in good working order (ground source heat pumps are not eligible).
Must be a Hydro Ottawa residential or small commercial customer.
If you rent your home or building, you must have approval from the landlord.
Click here to register or call 1-866-813-2226.
---
Did you find this page useful?