Careers

Power Up Your Future with a Career at Hydro Ottawa!
Our dedicated and motivated team of employees are committed to serving our customers and making the communities in which we work and live a better place.
Our strength is found in the quality of our workforce and we strive to hire and retain the best qualified people available and maximize their opportunities for success. We are committed to maintaining a safe, secure and healthy work environment, enriched by diversity and characterized by open communication, trust, and fair treatment.
Our work environment fosters and demonstrates ethical business conduct at all levels and reflects our shared values of Teamwork, Integrity, Excellence and Service. We believe that we will achieve performance excellence by cultivating a culture of innovation and continuous improvement.
Hydro Ottawa is committed to creating an exceptional workplace and to being a top employer. We are extremely proud of having been named one of the National Capital Region's Top Employers four years in a row, as well as having been selected as one of the 50 Most Engaged Workplaces in Canada for the last three years.
We Offer:
Multiple career paths in professions such as Skilled Trades, Finance, Engineering, Human Resources, Communications & Marketing, Sales, Information Management & Information Technology.
A comprehensive compensation and benefits package including medical, dental and vision care for our employees and their families. Disability and life protection and a pension plan are also provided.
A dynamic talent management strategy which is driven by and aligned with the organizational culture, helps to ensure an employee experience that retains and engages our employees throughout their careers.
Wellness programs that include our on-site fitness facilities and Employee Assistance Program.
We also offer dynamic recognition programs that celebrate the values of our organization and the achievements and contributions of our employees.
A safe and healthy work environment. We place a high priority on protecting the health and safety of our employees and of our community. We provide safe work practices training for all employees consistent with industry best practices and our company's safety performance has been solid over the past several years.
A strong commitment to our community; we encourage our employees to participate in volunteering opportunities that will benefit our community and add to their personal growth.
An inclusive environment. We value diversity and the influence of different perspectives, experiences and cultures that our employees, and future employees, bring to our workplace.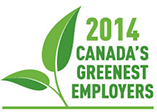 ---
Did you find this page useful?