Did you know that Hydro Ottawa delivers electricity to more than 353,000 homes and businesses in Ottawa and Casselman?
As part of our commitment to delivering safe and reliable energy to our customers and the communities in which we live and work, we regularly evaluate, replace and upgrade equipment and infrastructure across our electrical distribution system
Being a critical service provider, our investments are made with our customers in mind. Investments range from connecting new customers and upgrading existing services to expanding capacity for our growing city and replacing aging infrastructure,  ensuring we can maintain safe and reliable electricity distribution to our customers.
If you see one of our crews working in your neighbourhood, they're undertaking one of the aforementioned necessary investments.. This may involve crews working in your backyard, alongside roads or in the  right of ways. It could also involve managing vegetation near our facilities or assets such as overhead lines or transformers. By doing this work, it helps maintain the system, meeting a growing demand, and prevent larger power disruptions in the future.
Hydro Ottawa wants to make sure you have enough notice when we are working in your neighbourhood, especially if the work will require planned power interruptions to complete.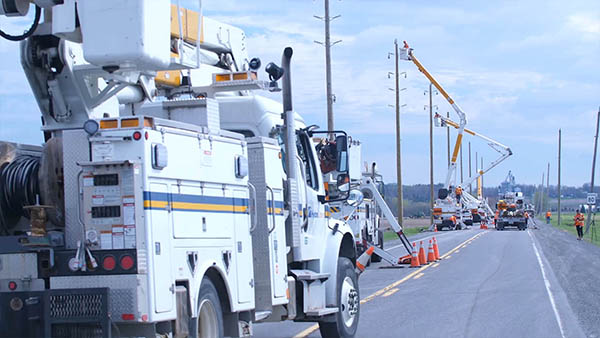 When planning service interruptions to support some of the work we do, we carefully schedule a time and repair method that will minimize both the duration of the  power interruption and the number of customers impacted.We always ensure that impacted customers are notified at least 24-72 hours before the work commences. Customers can expect to be informed through physical letter distribution, phone, email, and/or a text/SMS message. Customers can sign up for planned power interruptions alerts via MyAccount.
Information on upcoming planned power interruptions can be found here.
Below are some examples on the types of work that may be seen while work is being done in your area.
Vegetation management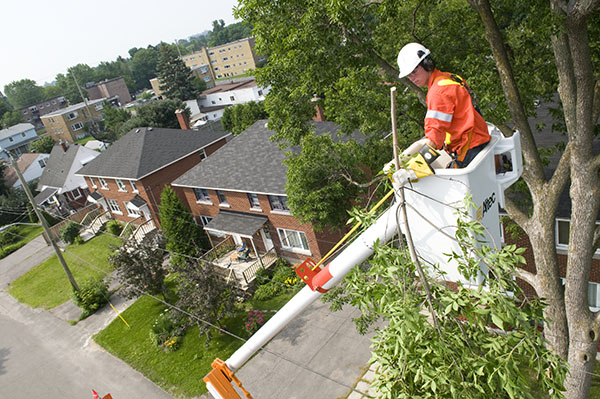 Our forestry inspectors monitor and gather data about trees in proximity to overhead power lines on a regular basis. They will trim trees that are directly in contact with a power line, or within three meters of a power line.
When trees are close enough to potentially contact overhead power lines, public safety and the uninterrupted supply of electricity can be compromised. Hydro Ottawa has a responsibility to ensure its electricity distribution system is safe and that it operates reliably, including making sure that our overhead power lines are free from trees and other vegetation such as vines.
As a property owner, you are  responsible for keeping the service wires on your property clear of vegetation and tree foliage. If you notice a tree near an overhead power line, or you need a temporary outage to trim or remove trees on your property, submit a non-electrical service request online or contact us by telephone at 613-738-6400 weekdays between 8 a.m. to 4 p.m. (excluding statutory holidays).
To learn more about the trimming program and practices, read our Frequently Asked Questions and our Tree Planting Advice brochure.
Pole replacement
Hydro Ottawa has approximately 48,000 poles within its service territory.  It is important to inspect and test pole strength on a regular basis to ensure that end of life or damaged poles are  identified and replaced.  Construction activities can occur in your area ranging from replacing a single pole to replacing the majority of poles in an older part of town. These replacements are completed to ensure the safety and continued reliability of service in your neighbourhood.
Transformer replacement
Transformers are an important part of the electrical system that exists within our entire service territory, and are what helps manage the voltage that runs from substations to businesses and homes. Transformers can be near a road or on the Hydro poles mentioned above. We also have padmount transformers located in neighbourhoods where our infrastructure is located underground. Regular inspections are completed to ensure that there are no impacts to the box or lines encased within. This work is necessary to ensure the safety and reliability of electricity supply in the area and to the customer fed from these transformers.
Structures such as fences and retaining walls that have been built over or around Hydro Ottawa's equipment may prevent our crews from replacing/installing new equipment. Hydro Ottawa will work with customers to keep removals at a minimum and to minimize any damage to customer property. Vegetation such as hedges and trees may also have to be removed if they impede access.
Cable replacement
Hydro Ottawa has a portion of its infrastructure that is underground, however, it still must be inspected and tested on a regular basis to determine its condition and priority for replacement.  Replacing underground infrastructure more often that not requires significant excavation to gain access to the infrastructure to be replaced.  Replacing aging underground cables is essential to maintaining reliable service to homes and businesses across the City.
Hydro Ottawa staff and contractors at your door
Hydro Ottawa employees or contractors may sometimes come to your door regarding construction activities or to leave a door hanger or letter. Most, but not all, of our employees will be wearing uniforms and carry an employee identification card. Our authorized contractors will have at least one of the following items for identification: a badge, uniform, and vehicle.
Where our crews and contractors require access to your property to inspect, repair, replace poles or other electrical equipment, we will always attempt to notify you in advance before entering your property.
Your property may contain a Hydro Ottawa easement. This easement is a legal right of access for Hydro Ottawa to a portion of your property for the purpose of installing and maintaining its distribution system. It is vital that easements be kept clear to permit access to the equipment that supplies you and your neighbours with electricity.
Road right-of-way means, generally, the band of land between private property lines that has been set aside by a government for public use and access for the purpose of travel, or utility use and access, for example, traffic signs, traffic signals, and utility services.
Road closure and parking restrictions
To safely undertake and complete a project, temporary road closure may sometimes be required. This could result in street lane closures and parking restrictions. To ensure vehicle, residents and staff safety, temporary detour signs directing traffic and pedestrians away from the construction site will be used.
Reinstatement work after excavation activities
In some cases, excavating activities and heavy machinery equipment such as cranes and construction vehicles may be used, and there may be noise associated with the construction activities. If we need to access your property, please leave gates or fences unlocked and secure your pets (leave them indoors) for everyone's safety.
Wherever excavation activity occurs, the affected area will be brought back to finished grade with top soil and grass seed applied.
Please note that it is the customer's responsibility to maintain the reinstatement work, including the proper development of grass. Hydro Ottawa attempts to remove all extra fill used to fill pole holes, or trenches, however small amounts may be left in place when placing topsoil and seed. Plants should have no issues growing through this area.