Ottawa is ready for electric vehicles
Plug into the future of

green

transportation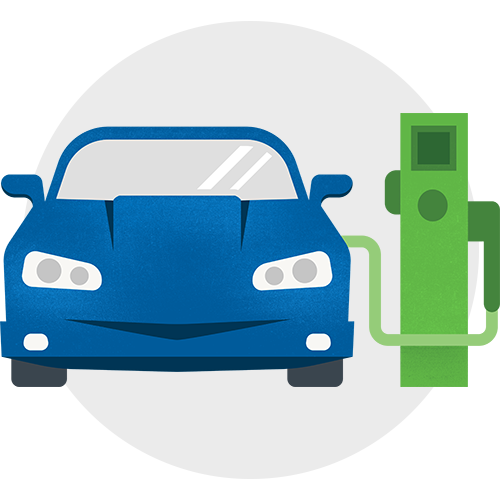 Why electric vehicles (EVs)?
Not only are EVs 70 per cent greener than gas cars, they're cheaper to operate and maintain. EVs also perform better, with quick acceleration, smooth handling and a quiet ride.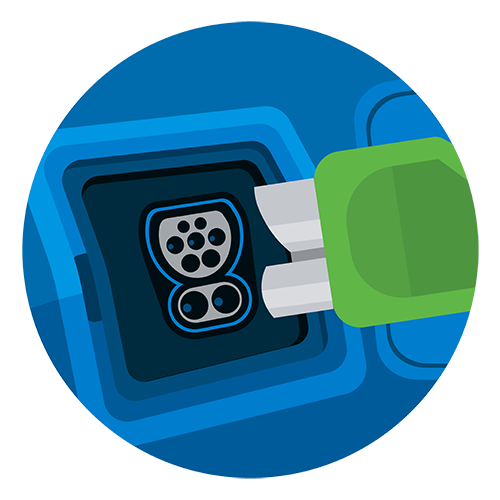 How do EVs work?
Battery-electric vehicles (or BEVs) run 100 per cent on electricity with a battery pack that powers an electric drivetrain. When depleted, the battery is recharged from a wall socket or a dedicated charging unit. Plug-in hybrid electric vehicles (or PHEVs) also have an electric motor and battery but use a gas engine when the battery runs low.
Electric vehicles (EVs) make sense for drivers and businesses in Ottawa – both economically and environmentally.

---
Hydro Ottawa is committed to advancing the adoption of EVs and to expanding access to EV charging stations as part of our overall Strategic Direction. We are currently acting on our plan to meet this commitment.
In 2012, Hydro Ottawa joined Electric Mobility Canada, a national association "dedicated to the promotion of electric mobility as a readily available and important solution to Canada's emerging energy and environmental issues." In 2014, we partnered with Pollution Probe to complete an "Electric Mobility Adoption and Prediction" study that examined the current and future impact of EVs on the Ottawa market and our city's electrical infrastructure.
Hydro Ottawa has added EVs to its corporate fleet and has installed EV charging stations at our offices on Hunt Club Road and Dibblee Road. We are also working with the City of Ottawa, public organizations and companies to make EV charging stations available at more locations across our community, including collaborating with Tesla to install super-charging stations at the Rideau Centre.
Electric vehicles start from as low as $27,000 and most sell for $35,000 to $45,000. Electric vehicles come in different sizes from compact to midsize to SUV, with more than 35 makes and models currently available, and more being announced every year. The average Canadian driver, travelling 20,000 km each year, can save as much as $2,000 per year on fuel alone. For example, battery-electric EVs cost up to 75 per cent less to drive than a gas car, saving the typical EV driver $1,500-$2,000 every year on fuel.
EVs are also much cheaper to operate and maintain than gas cars, saving EV owners thousands of dollars over the EV's lifespan.
As of May 1, 2019, Transport Canada offers an incentive of up to $5,000 for eligible new zero-emission vehicles (ZEVs). The incentive, offered through the iZEV Program, is available for newly purchased or leased vehicles and is applied directly on the bill of sale or lease agreement at the dealership or online.
Incentives are available for new battery-electric, hydrogen fuel cell, and hybrid electric vehicles purchased or leased in Canada from a licensed dealer, as follows:
Battery-electric, hydrogen fuel cell, and longer range plug-in hybrid vehicles are eligible for an incentive of $5,000
Shorter range plug-in hybrid electric vehicles are eligible for an incentive of $2,500
Note: Pre-owned vehicles are not eligible.
Some restrictions apply, including vehicle eligibility. More information is available here.
According to Ontario's Ministry of Transportation:
On average, a typical battery EV will cost less than $300 per year, or about $0.78 a day to charge at night.*1
A typical plug-in hybrid EV will cost about $700 per year, or $1.92 a day for fuel (including gasoline and electricity costs).*2
Comparable gasoline cars can cost between $1,000 and $2,500 annually to fuel or up to eight times more money daily than an EV.*3
While charging overnight, EVs use electricity from the grid to warm and condition the battery so EVs start like a charm in cold weather. But extreme cold, -20⁰C or colder, can drop the range an EV can drive without charging by 40 per cent because the EV must draw power to keep the battery warm and heat the car's interior. Nevertheless, there's still enough EV driving range on a single charge to meet the daily driving needs of most Canadians.
EVs must pass the same rigorous safety tests as gas cars and are fully licensed to drive on Canada's roads and highways. EVs also offer the same comfort options in winter that gas cars do, such as heated seats and heated steering wheels.
If you would like to install a Level 2 EV charging station in your home, here are some important facts to remember:
You must hire a Licensed Electrical Contractor to install the charging station and to ensure that the installation complies with all regulations under the Ontario Electrical Safety Code.
You should make sure that the installer takes out a permit with the Electrical Safety Authority (ESA) before starting the installation of your EV charging station.
You should confirm that all the installed equipment is certified for use in Canada by a nationally recognized certification agency – CSA, cUL, cETL – or displays other certification marks approved by the ESA.
You and/or your contractor will receive a Certificate of Inspection from the ESA once the installation is deemed in compliance with the Ontario Electrical Safety Code.
For more information about EV charging station installation, visit www.esasafe.com.
To find out more about EVs, visit
Plug'n Drive
. This non-profit organization is a trusted and unbiased source of information on electric cars and charging stations.
Battery electric cars sold today can travel at least 120 to 200 km on a single charge, while plug-in hybrids and extended range EVs can travel more than 500 kilometres using a combination of battery and efficient gasoline engine technology. Since most Canadians drive 50 km or less per day, these travel ranges are well within the daily needs of most drivers in Canada.
Note that EVs don't run out of charge unexpectedly. As with gas vehicles, a dashboard display indicates the level of charge and the estimated driving range. EVs also perform more efficiently at stoplights or in traffic jams. When an EV stops, its electric motor doesn't draw energy from the battery, but gas engines continue to burn fuel even when stopped.
All EVs come standard with a cord set that lets you charge the battery using a regular wall socket, also known as Level 1 or 110 volts charging. It can take 8 to 20 hours to fully charge an EV at Level 1.
Level 2 charging stations use a 240-volt system (similar to a clothes dryer or stove plug) and can fully charge a battery electric vehicle in about 4 to 8 hours and a plug-in hybrid in about 1 to 4 hours.
In addition to recharging at home, you can recharge your EV at publicly available charging stations. There are more than 500 Level 2 (240 volt) and a growing number of fast-charging Level 3 stations in Ontario today. Level 3 stations can fully charge an EV battery in about 20 to 30 minutes. That's at least eight times faster than a Level 2 charging station.
Under the Electric Vehicle Chargers Ontario (EVCO) program, more than 140 Level 3 charging stations and almost 200 Level 2 stations have been installed across Ontario and more deployments are planned. Ottawa currently has nine Level 3 stations and six Level 2 stations installed, with more coming soon.
Throughout the province, charging stations are typically located in or close to major attractions, restaurants, shopping mall parking lots, businesses and municipal properties for in-city travel. The Level 3 or fast-charging stations are generally located along highways and other major roadways to ease inter-city travel for EV drivers.
Across Canada, there are almost 7,000 public charging stations, many of which are Level 3 fast-chargers. To find a public charging station in Ottawa, other cities or along your route, visit:
Fuel Efficient
With an EV, you use no fuel or less fuel, which can reduce your vehicle operating costs significantly.
Affordable
Electricity is cheaper than gasoline and EV maintenance is minimal.
Low Maintenance
EV drivers save upwards of 60 per cent on maintenance costs, because electric motors typically don't break down as much as gas engines. Say goodbye to oil changes, fluid top-ups and broken mufflers.
Good for the Planet
EVs are 70 per cent greener than gas-powered vehicles and EV batteries are made from Lithium-ion, which are 90 per cent recyclable.
Fun to Drive
Electric cars deliver full torque right away, providing responsive, fast and smooth acceleration. EVs also feature remarkable handling and stability thanks to a lower centre of gravity.
Fit your Life
EV drivers in Ontario can get "green" license plates, allowing them to drive in all provincial high occupancy vehicle (HOV) lanes – even with only one person on board.
Find A Place To Charge Up

Sales of electric vehicles (EVs) are on the rise in Canada, leaving many with questions about the impact EVs will have long term on the environment and on the energy grid.

The Dos and Don'ts of Public Charging
With electric vehicles (EVs) becoming a more popular option for drivers, we are also seeing more and more public charging stations, generally called an Electric Vehicle Supply Equipment (EVSE) being installed. This is true both in cities and along major highways where the installation of DC-Quick or Fast Charging (DCFC) stations has grown significantly.

Owning an electric vehicle (EV) these days isn't any more complicated than owning a gasoline one. In fact, the argument could be made that it's easier from a "fuel" perspective. While refueling gasoline vehicles require a stop at the pump to top up or fill the tank, the same can be accomplished with an EV by simply plugging it in.

The ins and outs of owning an EV
Electric vehicles (EVs) have been a hot topic for the last little while; after all of this noise on the subject you might be left thinking to yourself "can they really compete with a regular gasoline vehicle?" The answer is yes. Yes they can.

As the technology associated with electric vehicles continues to develop, more Canadians are considering the switch to EVs. It's 2018 and while we might not have the flying cars predicted by The Jetsons, the automobile has come a long way – or has it?

MiGen Transactive Grid represents the future marketplace for energy – one where customers will generate more of their own electricity, store that electricity, share with connected neighbours, and send what's not used back to the grid.